One of the main characteristics of Maine identified by the Brookings Institute in their
landmark report on Maine's future
was the puzzling perfusion of pessimism. (*Cough* Sorry 'bout that.)
The Brookings people apparently had a hard time understanding that, but I think I've got a handle on at least a small part of it. Aside from our general north-yankee grimness, Maine is witnessing a drastic change in the character of available work. Even imagining, for the moment, that you're capable of adapting to a service-oriented economy, where's the pride in that?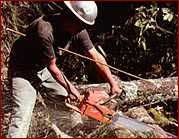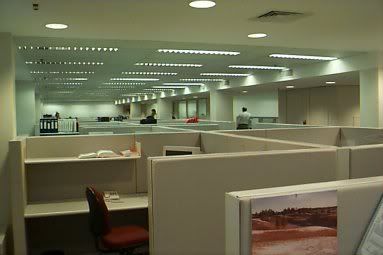 Compare working in a cube farm or for the tourist industry with logging or fishing, or even working at the mill. Especially for the logger or the fisherman, those are highly independent careers. Your reward is usually directly proportional to your capacity for hard work. And the modest income is augmented by a sense of accomplishment--having wrested something valuable from the forest or the sea. At the end of the day you're tired, not just worn down. You can be proud of that work in a way you just can't feel by looking at a sheet of call statistics. Take it from someone who has worked in a call center and as a carpenter.
The bigger drama in Maine industry has lately revolved around the fate of paper mills. Will they stay or will they go? Well, they're staying for now. For now. But with a tip of the hat to the folks at
Thinking Beyond Tomorrow
, I'd like to sound the strains of cautious optimism. (OK, it isn't "Fanfare for the Common Man" or anything. But it's better than a Requiem, right?)
A non-profit organization based in Rumford is looking for a site to develop a bio-oil refinery. The refinery would render bio-oil from forest products to, among other things generate electricity in a symbiotic plant next door. According to the
Lewiston Sun-Journal
:
The plant would be the first of several to eventually be built in Maine. Each would create at least 60 jobs for processing up to 900 tons of wood a day into bio-oil.

The oil helps to create electricity about as cleanly as natural gas in specially designed plants located near the refineries...
There's a lot of work to be done here, but, as I said, I'm cautiously optimistic. Not only might this become a part of Maine's growing capacity for alternative energy production, but it would buoy the forestry industry which has taken a hit as the paper mills have left.
According to Thinking Beyond Tomorrow, Democrats State Senator Bruce Bryant and State Rep John Patrick can be thanked for their role in encouraging these types of projects. Hopefully, they'll be on guard with respect to any pollutants created by the bio-oil refining process. That's part of the "caution" in my optimism.