I like to think of this as a thoughtful blog. Part of that conceit means not doing too much football. But the playoffs are here and my Patriots are back!
After putting together a nice 3-game winning streak to finish out the season, the Patriots welcomed the Jets to Foxboro for the wild-card rubber match to their season series. If you follow these things at all, you know they sent the Penguin and his flyboys back to La Guardia on the wrong end of a 37-16 beat-down.
Things seem to be coming together for New England. Despite a few moments of malaise in the middle of the second and third quarters, execution was crisp, play-calling was apt and there seemed to be that special pop in the hitting that warms the heart: your team is play-off ready.
A particular improvement from the last encounter with the Jets was the performance of the offensive line, backs and tight-ends in pass protection. In their last meeting, Mangini and the Jets seriously confused Brady and center Dan Koppen. Lots of jumping around pre-snap, effective masking of coverages and blitzes and stemming formations. The domination was so comprehensive that vague mutterings of "outcoached" were rumoured in the the New England locker room.
It's hard to imagine a quicker way to piss off Bill Belichick than to tell him his understudy out-schemed him. But there was no denying it: the Pats were unprepared that day.
Not on Sunday. More than once, Brady dropped back to pass and his feet came completely to rest as he settled in to survey the field with all the urgency of a hung-over college sophomore 2 hours into a session of Madden 2006. The longest completion of the day, 31 yards to Gaffney, materialized for that just reason. Gaffney came open very late over the middle, two deep routes having pulled the safeties out of position. Under normal, reasonable, circumstances that play would not have been there--it just took too long. In the NFL, quarterbacks get at most 3.5 seconds to get rid of the ball on passing plays. But I think Tom went out for a quick brat-and-a-beer before completing that pass. He was sacked only once--arguably his fault as he held the ball for too long.
Daniel Graham deserves special mention for his all-around blocking. He and Matt Light have become one of the league's premier run blocking tandems on the left side. Add to that a key TD reception at the end of the first half, and you've got an all-star day for Mr. Graham.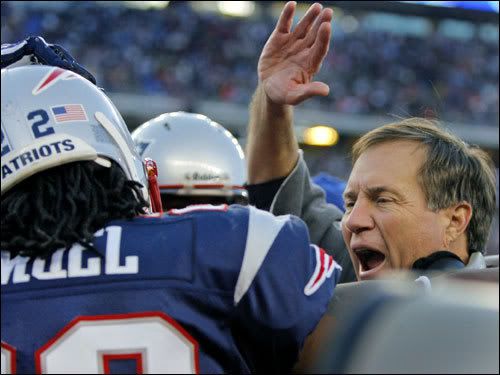 I feel compelled to add that Asante Samuel had a great day, pretty well shutting down the left side of the defensive field. BB was very psyched when Samuel put the finishing touches on the game with his INT for TD (pictured). Since Belichick has final say in player personnel decisions and Asante is admittedly fishing for more money, well, just one more thing to roll your eyes at. Personally, I don't know how these guys do it (if they do). Football is such an emotionally taxing game; I don't think I'd be capable of relating well to a coach I felt was shafting me financially.
That said, the interception in question was an example of great coaching as much as great execution. Asante picked the slot receiver, coming off of his outside man as the slot curled. Pennington let the ball go whilst Samuel's back was turned; there's no way he could have known the ball was on the way. Replays indicated that Samuel had safety help over the top, coming just as he peeled off his man to jump the curl route. My hunch is that Samuel was keying the slot-man for the curl, and baited Pennington by running past it, only to turn and jump the route as the ball was in the air. I've maligned him as a gambler and I think that's still true. But that play reeks of coaching--really good coaching.
Samuel's homeboy Benny Sapp, CB for the Cheifs, said about Samuel, "Forget all that talk about the 'system.' The system doesn't make the player; the player makes the system." Well, Benny, how's your couch treating you? Are you comfy? Asante's system lets him move on; you're sitting at home.
I just hope this doesn't turn into another soap opera a la Deion Branch. If it does, give Jackie MacMullen a call. I think she has the script ready.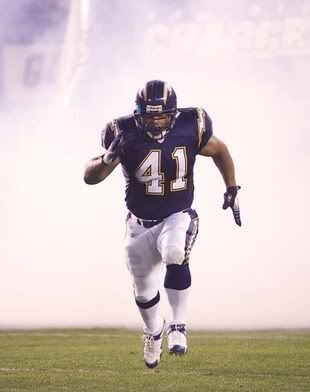 The pudding's proof comes this weekend at San Diego. The Chargers are by general acclaim the most complete team in the league this year. No argument here. LaDanian Tomlinson and Shawn "Juice" Merriman await, well rested. Perhaps my favorite player to watch is fullback Lorenzo Neal (pictured). I can't say enough about him: the consumate football player. Extremely tough, dedicated, selfless and brutal. I promise you, we wouldn't be hearing as much about LDT if it weren't for the crushing, irresistable lead blocking of Mr. Neal. He's been in the league for 14 years. He's created 9 straight 1000-yard rushers. Watch him this Sunday--it's a real treat. I don't usually wax lyrical about the "other guy," but we're lucky we get to see Lorenzo play. He's every bit as good as he is low-profile.
One can only hope espn.com's Bill Simmons is right:
The Pats tipped their hands in a meaningless Tennessee game last week. There's been a nagging sense since the curious Colts defeat that they were better than they were letting on, that they were playing possum to an extent, blessed with an easy schedule that guaranteed them the 4-seed four months ago. When the Titans got them riled up with a couple of chippy plays, the ticked-off Pats switched gears, kept their starters in, opened up both barrels and blew them off the field. It was an awesome performance. For the first time all season, they looked like the physical, nasty, ball-breaking, smashmouth team that won 21 straight and 31 of 33 during the '03 and '04 seasons.
That's the way they'll need to play this Sunday.