This game was like a bad case of diarrhea. Just when you thought things were about to improve, you were shitting yourself again. If you read the reports or look at the box score, you'll get part of the story: 10 Patriots penalties, 3 Patriot turnovers, a safety surrendered to a 2-9 Detroit team.
The rest of the story? It was even worse than it looked. Kitna, the Lions' QB, made our defensive secondary look every bit as bad as it is. Consistently hitting receivers over the middle and using well-timed screen plays he made the Pats look like a high-school team. They complied, playing like a bunch of freshmen. After a week of practice where their coach reportedly harped on mental errors, they gave up a first down via an offsides on a punt. On a
punt
? Seriously guys, what the hell is that?
Watson coughed it up again, and Brady had a straight give-away interception. Only the fact that we were playing the Lions bailed us out. 15 points in the fourth quarter bailed us out. Screens and quick-dump passes to Kevin Faulk keying two late drives for points combined with a timely strip-sack of Kitna by otherwise quiet Rosey Colvin (recovered by Mike Wright) delivered us the game. It was not a performance that inspired much confidence heading into the stretch run of the season--a run that includes away games against the Dolphins (who always seem to play us tough) and the resurgent Titans, who just topped off the Colts today and are playing energized ball under emerging star Vince Young.
Only two highlights worth recording. Reche Caldwell continues to thrive in his relationship with Brady. He caught 8 passes for 112 yards, including a stretch in the first half where he provided 5 of the 6 receptions on a 18-play scoring drive.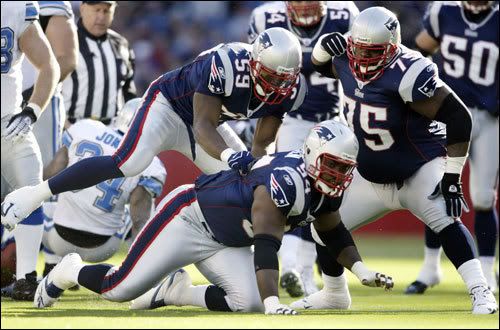 The other highlight of the day was the standout play of defensive end Ty Warren
(pictured, celebrating on the ground)
. Featured by the Boston Globe in
this nice profile
by Jackie MacMullen, he was all over the field, and made himself a home in Detroit's backfield. 10 tackles, 8 solo, and two sacks. When a defensive lineman in a 3-4 is causing that kind of statistical disruption, you know he's having a monster day. And Warren certainly did. If only we could get Jackie to profile the guy every week!
Up next: Miami.
(Photo (c) Boston Globe)