I've not been wanting to write this.
Right now we're very, very average. The outcome of the game shouldn't come as a surprise to regular fans, however, as we've been coming to this effort for most of the last month. Turnovers, mental mistakes, uninspired play and play-calling. It's all good if you're playing Detroit. Miami is not Detroit.
From a spectator's POV, I wrote "game over" in my notes in the third quarter after the Dolphins scored on a 32 yard pass to Booker over safety Artrell Hawkins. (The Pats had held on three straight runs but gave up the first on fourth and, in a play reminiscent of the Charlie Weiss era, the Fins went straight for the jugular and scored big.) But in reality, this game was over before they took the field. The tally of errors was similar to that of the Detroit and Chicago games. Daniel Graham coughed up another fumble after making a big catch (led to a Miami TD). 2 roughing the passer calls (for the record, both were bullshit--this league has gotten so soft it's sick) kept Dolphin scoring drives alive.
The offensive line, which laid a turd last week against Detroit dropped another dooky on Sunday. Jason Taylor continued pave his path to Canton with the jockstraps of NFL tackles. Nick Kazur, starting in place of injured O'Callaghan, had a nightmare of a day. Matt Light, who usually can handle Taylor pretty well was edgy and out of position most of the time. I think I wrote "offensive line a sieve" about 4 times. Taylor even spooked Light into jumping offsides on what could have been a crucial 4th down attempt, but turned into another crappy punt.
Pats punter Ken Walter put on a clinic--on how
not
to punt. His chief weakness has always been a striking weakness of the leg (weakness of the striking leg?) and Sunday cast that shortcoming into glaring relief. Saddled with poor field position all day (due to some amazing kicking counter-point from Miami's punter), he only threatened to pin Miami deep once. That kick was called back by an illegal procedure penalty.
This Branch, however, was twisted from the root. All year long it has been clear that the Patriots lack a deep threat at wide receiver and that they lack depth in the defensive secondary. Brady (who spent most of the day trying to keep his ass off the grass) completed only 4 passes to his wide outs, who were smothered by a very average Dolphins secondary. Goodman? Allen? These guys are lunch pail, not Champ Bailey or Ty Law. The Patriots attempted to use their tight ends as deep threats, but that's a poor substitute. A passing attack needs all levels in order to be credible. If only half your package is going to get open, the defense will target them. Brady, who has never been very accurate as a deep-passer, hung Watson out to dry on one deep-middle play in the third and nearly got him killed. We'll see if he can make a comeback.
As for the future, well, we've got a few draft picks (though with Seattle's comeback season, they aren't as good as they might have been). I will charitably keep the jury out on Chad Jackson. He's a rookie and rookie wide outs don't usually produce much. We need him though, and that Deion Branch trade is really looking stupid right about now.
On our defensive side, well, what can you say? True, Samuel is having a standout year with 7 picks. But I have this to say about that: it's his contract year and picks and passes defensed are not the same thing. He still gets burned about as often as Beavis working the grill.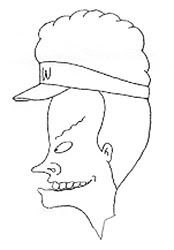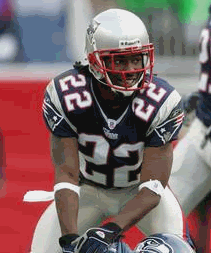 On the other side, Hobbs got torched repeatedly by the larger Booker, who had a standout day. Chad Scott is a castoff for a reason. Ray Mickens? He was on the street last week. He's 33 years old. And he had more snaps on Sunday than "starter" Hobbs. In fact, the entire defensive backfield smelled of old fire and ashes on Monday morning. The only possible light spot in that picture is that they were fielding the JV for much of the day. Wilson, Gay, Jones and of course Harrison are all on the injured list. For a unit that needs cohesion and communication as much as the o-line, this kind of decimation can only be crippling.
There are many potential excuses: Seau drops for the year. Harrison isn't the General anymore. The starting o-line was reshuffled for the second week in a row. Standout rookie and fearsome runner Maroney was hurt and at home. But in the end, there are two facts and two stats that tell the whole story:
Fact 1: We need two wide outs: one that gets open and one that gets up-the-field separation and both of whom can catch the ball. As the Herald said, you don't bring a knife to a gun fight.
Fact 2: We need at least one corner and one safety who can reliably cover and reliably tackle.
Stat 1: 9 penalties for 71 yards against.
Stat 2: 0 Miami turnovers, 3 New England turnovers.
So, you lose. This is to take nothing away from Jason Taylor who had a monster day. If he played on a better team, we'd already be talking about him the way people talk about Strahan. Nor from Nick Saban, who is smart enough to know how to beat you and confident enough to go do those things.
Searching for a Patriots highlight of the day brings me to Corey Dillon. The onetime thoroughbred finds himself in front of the plow these days, but there have been no complaints from a player once thought to be clubhouse cancer. Each week he dutifully picks up the hard yards and provides a solid example for the young talent coming up behind him. He no longer gets to the edge like he once did, and he doesn't run away from people much anymore. But on Sunday he showed that he can get it done when he has to. His 16 carries for 79 yards included several tough runs when the Pats were pinned deep. Used best, he runs north-south (outside leg of tackle/end to outside leg of tackle/end) with Evans leading. In those circumstances, he remains one of the league's best.
It was that kind of a day.
Bonus Broadcast Commentary: I think Dick Enberg and Dick Clark are sharing the same skin. In a year that has been notable for poor, uninformative, tangential and trite booth teams, Enberg and Cross are merely par for the course. And for the studio guys? Shannon Sharpe has been doing that highlight segment for years. He still sucks.