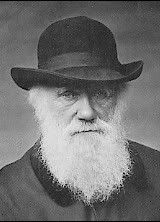 Happy Birthday today to Charles Darwin. Had he lived this long, Mr. Darwin would be 198 years old today. Although not actually the first to sneak up on the concept of species evolution (
Alfred Russell Wallace
should share in the distinction), Darwin's research was more progressed and he rightly deserves the larger share of credit.
Perhaps the least understood aspect of Darwin's theory is the idea of natural selection. An extremely slow process, fitness for a particular ecological niche relies on the happenstance of genetic mutation combined with sustaining that mutation over enormous lengths of time until it proves more survivable than other traits. If you're interested in understanding what all the fuss is about, allow me to recommend
The Blind Watchmaker
, by Richard Dawkins. Exhaustive without being exhausting, a very lucid description of the theory and its wonder.
If you're less inclined toward theory and more interested in stories and practical reality (e.g., how humans are freezing the natural process and creating a sterile world of very few species), I can wholeheartedly recommend
Song of the Dodo
, by David Quammen. Really beautifully written, this book addresses some of the concrete consequences of human settlement of the planet. Without even really touching on climate change. An excellent book altogether.
Speaking of climate change, it should be noted that Darwin, when he set out aboard the
Beagle
was not seeking to prove the theory of evolution. At the time of the voyage, Darwin was a firm Christian, convinced that the wondrous complexity of nature was proof of the existence of God. ("Consider the wonder of the eye...") He could not ignore what science showed him, however, and came to regard Christian dogma concerning the creation of the world as false.
This kind of revelation has been duplicated in the climate change field. A friend of mine, who has had the privilege of studying with climatologists and field biologists in Alaska, recalled for me that many of the people he met in the arctic had come fully intending to disprove the theory of Global Warming--some of them sent specifically to do so. The facts, however, were irrefutable.
When Darwin published his manuscript, he knew he'd be tarred as an apostate, an atheist. But he couldn't ignore what nature was telling him.
WHEN on board H.M.S. Beagle as naturalist, I was much struck with certain facts in the distribution of the organic beings inhabiting South America, and in the geological relations of the present to the past inhabitants of that continent. These facts, as will be seen in the latter chapters of this volume, seemed to throw some light on the origin of species—that mystery of mysteries, as it has been called by one of our greatest philosophers. ...I hope that I may be excused for entering on these personal details, as I give them to show that

I have not been hasty in coming to a decision.



C.R. Darwin
UPDATE 2-14-07:
A tip from Crum in the comments to read
The Voyage of the Beagle
, Darwin's first-hand account of that journey. See the comments for more details. Thanks!