This book recently showed up in my house. That means money was spent on it (not my own, of which there is precious little and more on that in a moment). We all get pulled by shiny things from time to time. So often on closer look, the shine fades. Personally, I'm a sucker for the latest motorcycle magazine, any "special issue" of Fine Homebuilding and the occasional lottery ticket. Embedded in that grab is the idea that whatever I just dropped my cash on is somehow going to improve my life. How often does
that
pan out?
I was not surprised, then, to hear from the secret "Secret" buyer a bit of buyer's remorse. Not just the simple, "eh, it wasn't that good," but rather more like, "what a load of crap!" No kidding. Oprah's plugging it, though, so there must be something there, right?
Well, no, actually.
I was going to write a little blog about the "culture of Oprah" but I soon discovered that Peter Birkenhead of
Salon.com
had already done so, and done so much better than I would. In fact, a bunch of people have noted the venal (if not actually depraved) culture-of-Oprah that seems to embody our whole American tapestry right now. I'd like specifically to tip my hat to Chris Floyd of
Empire Burlesque
, whose ideas on the Salon piece I'm pretty much stealing, right down to the photo.
The thing about Oprah that has always bugged me is that no matter what, the second you criticize her someone is bound to say, "But she's done so much good."
Birkenhead's response: "Has Oprah ever done anything that didn't leave people with mixed feelings? And at what point do we stop feeling like we have to take the good with the craven when it comes to Oprah, and the culture she's helped to create?"
Why craven, you ask?
Because, with survivors of Auschwitz still alive, Oprah writes this about "The Secret" on her Web site, "the energy you put into the world -- both good and bad -- is exactly what comes back to you. This means you create the circumstances of your life with the choices you make every day." "Venality," because Oprah, in the age of AIDS, is advertising a book that says, "You cannot 'catch' anything unless you think you can, and thinking you can is inviting it to you with your thought." "Venality," because Oprah, from a studio within walking distance of Chicago's notorious Cabrini Green Projects, pitches a book that says, "The only reason any person does not have enough money is because they are blocking money from coming to them with their thoughts."
So
that's
the problem! Not that I was out of work for three months, that I haven't had health care for three years and that I spend too much money keeping my car on the road and food in my (ever expanding) belly. I've been
blocking
. Well thank goodness I haven't been thinking about genocide. I just need to start believing (in wealth, in happiness and success in Iraq). Great strategy.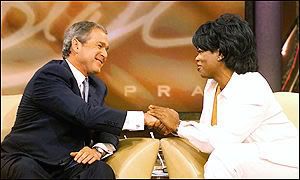 "The Secret" is garbage. But it is a kind of garbage that infuses our culture bottom to (more recently) top.
It's a culture where superstition is "spirituality," illiteracy is "authenticity," and schoolmarm moralism is "character." It's a culture where people apologize by saying, "I'm sorry you took offense at what I said," and forgive by saying, "I'm not angry at you anymore, I'm grateful to you for teaching me not to trust shitheads like you."
Why bother pointing all this out? As Birkenhead and Floyd and now myself say, because she's Oprah. Better name recognition than Nelson Mandela, reaches more people than Bill O'Reilly. She's a movement. She creates best-sellers with a whisper and builds vastly expensive
finishing schools in South Africa
with a wave of her hand. Birkenhead: "The things that Oprah does, like promoting "The Secret," can seem deceptively trivial, but it's precisely because they're silly that we should be concerned about their promotion by someone who is deadly earnest and deeply trusted by millions of people."
Go read Birkenhead's piece on
Salon
. And stop by
Empire Burlesque
. Good stuff there.