It's been too long since the game--my apologies. If you're reading this at all, then you know the Pats overcame the Bears on Sunday, 17-13, at home. Highlights include the new FieldTurf, our rookie placekicker hitting a career long 53 yarder, terrible officiating and a drive-sustaining scramble by Brady, and the loss for the season (and possibly ever) of linebacking great, Junior Seau.
First, a word about the Bears:
Overrated.
OK, more than a word. IMO, the Bears have been overrated from the beginning of the season and as that season wears on, we're beginning to see why. Rex Grossman is not up to the task. Normally this isn't a problem because they play in the NFC Central...err, North, and they can generally get the points they need with their running game. But against superior competition (and believe me, that does not yet include the Pats) they need to be able to complete passes. There were numerous opportunities this past Sunday (including the game-ending interception) where wide open receivers were missed. He's a leader, but not a performer. That's going to hurt them in the playoffs.
"But Jim!" I hear Bears apologists begin, "The Bears are 9 and 2! Their defense is unbeatable, Urlacher is God!" I have this to say about that: So what.
Look at their pathetic excuse for a schedule. The glory days of the NFL's Norris Division have passed. My have they passed. If you can't win 2 against the mighty Green Bay Packers (4-7), the Vikings (5-6) and the Lions (2-9), you can't even be in the conversation.
That's at least a 6-win season right there if you do anything but suck. So where did the Bears get their other victories? Try Buffalo (5-6), Arizona (2-9), San Francisco (5-6), New Jersey B (6-5), New Jersey A (6-5), and Seattle (a soft 7-4). Res Ipsa Loquitor with respect to all but Seattle and Jersey A.
If you've been watching Jersey A, though, you'll have noted the tell-tale signs of a Coughlin implosion. They're 0 for their last 3 and falling fast. The rest of the NFC east should be sending thank-you notes to the Mara family for keeping this guy around. Hell, Bill Parcells should personally send them a bouquet of roses with TO's sharpied autograph. And Seattle? Lost. When they got rid of McKinnie, they lost their mojo. It's as simple as that, and all the Deion Branches in the world can't change that. Detroit, Arizona, Oakland and Green Bay account for four of Seattle's their 7 wins, and that Green Bay game was very nearly a debacle. I predict that Denver will dismantle them this week, even with a rookie at quarterback.
Hell the Bears even lost to Miami (5-6). Consider that their only two losses both came against teams from the AFC East. The East was a beast, but now it's the least. With Miami and Buffalo too inconsistent to be threats and the Jets (though showing signs of life) charging too late, the Pats practically sewed it up last week. And we ain't great. The holes in the defensive backfield have been huge all season. If Favre was 1/2 the QB he used to be, he would have lit us up. (Actually, the travelling car-wreck that is Brett Favre probably deserves its own entry. Stay tuned.) Grossman found those holes early (particularly with passes to B. Berrian--god could we use someone like him), but he couldn't do it consistently. It was a game we should have won, and did. I predict the Bears to go 1 and out in the playoffs. Sorry, Chicago, but your boys are a fraud. This year.
On to the Game!
Especially hard-hitting, especially fun to watch. The Pats turned it over 5 times, though. As
Ron Borges
noted in his piece for the Boston Globe, 5 turnovers usually denotes a sloppy game, but in this case you can also credit the hard hitting. If they do anything well, Chicago hawks the ball like no other team in the NFL. Only one of those five, a high-and-behind pass from Brady, was a pure give-away. Unlike Borges, though, I won't let my guys off the hook that easily. Maroney, Watson and Caldwell were all cleanly stripped. That's lack of focus, plain and simple. In Watson's case it's a double-whammy: He was rocked earlier in the game and gave it up, so should have had ample extra incentive to hang on (not that he needs any).
As he has been all season, Brady was less than crisp. I'm happy to give him some leeway since we picked up most of our receivers at a yard sale last week, but he's pressing a bit. He missed several open guys, as he did in the Packers game. That said, he remains a general.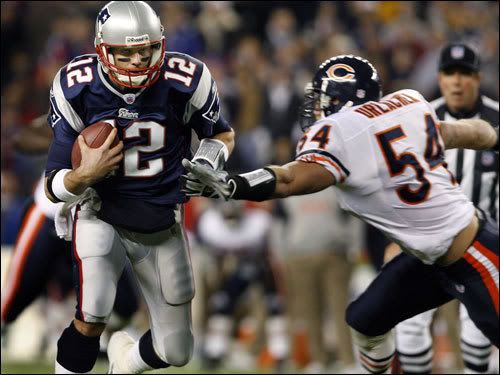 On a critical, clock-crunching 6:32 drive in the fourth quarter the Pats faced their third and most crucial third-down conversion opportunity. Dropping back to pass, Brady sighted down his progression but found no open pass-catcher. So he ran it. Urlacher waiting in the middle of the field, as middle linebackers are wont to do. Never to be mistaken for Barry Sanders, Brady nevertheless pulled out his one move, leg-faked 54 (
pictured
) and slid in safely. He rewarded the fans with a brassy display of emotion, popping up and emphatically signally the first down. Crowd roars, Pats go on to a TD (Brady to Watson on a nifty play-action throwback that was nearly too short), game, essentially, over.
The real spot on the game for me was the officiating. Fans around the league will agree that officiating has deteriorated mightily within the past year, with the serious rot starting to show around the time the Steelers and the Seahawks began making their way to the Superbowl. Against the Patriots, two clearly noxious deep-field pass interference calls were made. Amounting to 75 yards -- 1/4 of Chicago's total -- these penalties each aided a scoring drive and resulted in 10 points. Even a Bears fan, in her more honest moments, will have to admit that the second call was especially egregious. The DB had position relative to the pass, looked back for the ball and even had a shot at catching it. It was, upon review, one of the more elegant displays of the defensive art you're likely to see. In a word: perfect. Yet, somehow, illegal.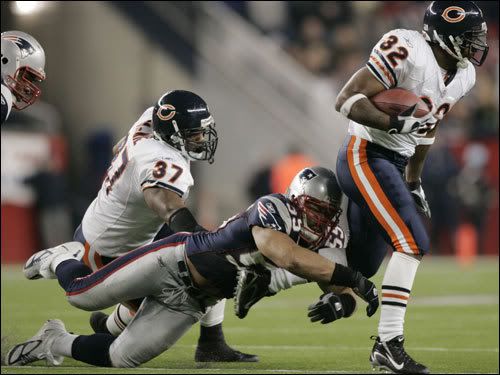 Finally, a sad bit of news. Linebacking legend Junior Seau may be done for good. Making a tackle behind the line in the second quarter (
pictured
), Seau's right arm was guillotined between the pistoning heels of tailback Cedric Strait as Strait struggled to pull away. In a sight reminiscent of Bengal tackle
Tim Krumrie
's Superbowl XXIII injury, Seau's arm was seen to flop unnaturally below the elbow as the veteran hunched on the new turf. Seau will be out for the season. If it proves to have been his last game, the 17 year veteran will leave behind a legacy of toughness and excellence that should guarantee him a bust in Canton. The football gods mourn.
This week we welcome the "fierce" Lions of Detroit to the Big Razor. Roar.
All Patriots v. Bears photos (c) Boston Globe.